19-11-2015
AlmavivA launches GIOTTO, its new universal IoT Platform
​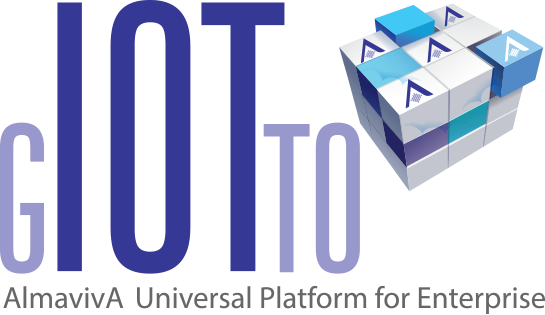 AlmavivA rolls out a new universal engine – GIOTTO – designed to create IoT solutions for improving people's lives, at home, at work or out and about. A simple, cost-effective and secure tool for collecting and interpreting data from a range of devices and for integrating different systems. The project includes partnerships with Universities and Research Centers, to boost innovation in the Internet of Things.
Rome – 19 November 2015 – GIOTTO, AlmavivA's Universal Platform for Enterprises, is a universal Cloud Platform created by AlmavivA for the simple and secure development of new IoT projects.
Businesses, homes, stations, entire cities, automobiles and even accessories can be linked to the Web, transmit data and mutually interact. According to several international studies, by 2020 there will be over 38 billion "smart" objects. These information assets (Big Data and Analytics) are decisive today for improving people's lives and helping businesses enhance their competitive edge. However, we need tools capable of streamlining app creation, while ensuring absolute data security.
"Making technology available to the country's innovation drivers is an absolute priority and has inspired us to create GIOTTO, an engine for facilitating new projects, stimulating research and kick starting new businesses – says Alberto Tripi, President of AlmavivA Group – GIOTTO is a platform serving innovation, designing useful applications for people and businesses and boosting IoT technology."
The AlmavivA skills and experience on which the Platform is built
Building on its successful track record in a number of sectors – from Green projects, with its SEM (Smart Energy Management) platform, to Transportation, with its Wi-Life Station solution, Security, Logistics and Agriculture – AlmavivA has further enhanced and integrated its expertise to create GIOTTO, an all-round flexible platform, which compatibly combines, in a single tool, all the useful components that can give shape to ideas in the Internet of Things.
"In recent years, the Internet of Things has changed, giving rise to some important breakthroughs – explains Stefano Mainetti of the Milan Polytechnic's School of Management. Global players, large businesses, are now showing an interest in Italy as well and the investments in startups in this field have doubled over the last year. But when we talk of linking objects and developing "smart" applications it becomes essential to develop a universal form of integration, beyond the traditional technology silos, in order to ensure secure and reliable cross-industry access for all operators, from large businesses to startups".
A secure, intuitive and reliable universal platform
GIOTTO is like a set of differently colored and shaped building blocks, compatible and linkable, already assembled, in part, in universal elements, which can be reutilized many times, with which we can create different useful forms. GIOTTO contains all the necessary software for immediate use, to design vertical IoT solutions. Through GIOTTO we can link different devices in a single environment and make them interact with the people, applications, services and further devices. The solutions developed through GIOTTO can, in fact, collect and process the data generated by the Internet-linked sensors and devices and make them available to the final users, applications and other devices.
This universal AlmavivA Platform can link with the other corporate networks and systems and, thanks to Cisco Intercloud Fabric, to different systems and clouds as well.
"Partnerships are one of the pillars – together with research and development and acquisitions – that support our capacity to offer clients high-value solutions and architectures" says Agostino Santoni, CEO of Cisco Italia. "By pooling our skills and visions we can develop tools capable of providing an innovative response to the technology needs of businesses, in the era of the Internet of Everything, reinforcing us in our conviction that fostering an extensive and collaborative ecosystem with market players like AlmavivA is a fundamental lever for development".
Stimulating innovation and research
To stimulate research and development in the Internet of Things – a sector that is set to grow by 285% by 2020, according to Juniper Research – AlmavivA has launched partnership agreements with several Italian universities (IoT Lab of the Milan Polytechnical University, CTL Sapienza and Roma Tre University) and Research Centres. AlmavivA, committed to digitizing the country, and with a focus on corporate social responsibility, will make GIOTTO and its underlying know how available to researchers, for the purpose of encouraging development projects and innovative solutions aimed at improving the daily lives of people and businesses.
Want to know more? Go to the
datasheet