30-09-2013
An innovative system combining cooking, health and technology for well-being and quality of life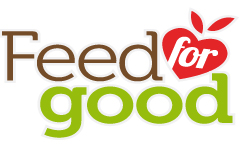 Feed for Good is a smart platform delivering tailored services focusing on nutrition and food habits, aimed at encouraging individuals to understand that their relationship with food has a significant impact on their physical well-being. The project is closely related to the theme chosen for the 2015 Milan Universal Exposition: food.
The system can manage all the information relating to an individual's nutritional needs and medical-clinical profile and "retrieves" data from a variety of sources (recipes, traditions, cultivation methods, etc.) building a daily menu suited to the individual and ensuring the traceability of one's daily nutritional habits thanks to a digital "diary".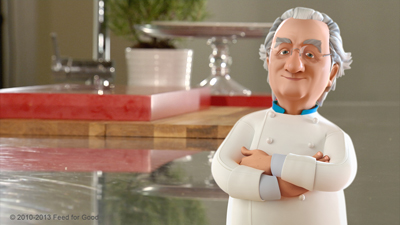 But Feed for Good is much more besides: thanks to a
cutting-edge semantic search engine
it can retrieved tailored information expressed in natural language and "understand" the content of video-recipes – based on an extremely sophisticated integrated search system making use of last-generation state-of-the-art algorithms – inviting users to further investigate ingredients and cooking utensils and methods of preparation, with a view to better appreciating and understanding the art of cookery.
All this also thanks to an exceptional guide, the great chef Gualtiero Marchesi, represented by a likeable last-generation 3D avatar whose job it is to provide precious tips and guide users in navigation, helping to make it pleasant, enjoyable and informative.
The project has been able to take off thanks to the support of the Department for Production Activities, Research and Innovation of the Region of Lombardia, whose aim is to achieve the objectives pursued through the Regional Competitiveness Operational Program (ROP) financed by the European Regional Development Fund (ERDF). It is by implementing such projects, in fact, that we can strengthen the competitiveness and dynamic quality of the local economy, while fostering the social cohesion, growth and development of the community as a Project Teamwhole.
The project stakeholders are all "players of excellence" in the fields of healthcare, haute cuisine and technological innovation:
Gualtiero Marchesi srl has a long-standing experience in research and innovation regarding food and wine and the skills to build links between food and cooking and other significant aspects of people's live, such as Art, Technology and Healthcare.

Fondazione Centro San Raffaele designs and develops innovative community-centered systems and services, for prevention and promoting healthier lifestyles, through its IRIS Unit (Innovation and Research in Life and Healthcare Services.

Almawave, a subsidiary of AlmavivA Group, one of Italy's top Information & Communication Technology providers, also deals with designing innovative interfaces between users and institutions and developing technological solutions capable of developing the operational systems and processes of Government and Businesses, to improve the level of services in a constantly changing market

TooMuch Design in motion deals with graphics and communication, developing structured and quality audio/video contents and researching innovative iconographical and narrative languages.

Project overview
The search for a high level of quality of life requires society and its stakeholders to join forces, pool their skills and exploit synergies as far as possible, to successfully tackle the new challenges posed by healthcare. A large number of factors are involved in the preservation and promotion of the general health and well-being of a community, including proper nutrition, which is becoming increasingly important in generating the necessary conditions for ensuring the overall well-being of the individual. This is where the Feed for Good project steps in, a smart system for the joint management of structured and non-structured information, targeting the individual and their needs and aimed at generating tailored services for meeting their nutritional requirements, delivering information on how to eat properly and helping in the preparation of Mediterranean cuisine dishes, through the use of innovative formats, such as semantic video-recipes. The potential impact of the project is grounded on three key factors:
technology: the project is highly innovative and aims to make available the most cutting-edge and effective technology - sematic technology - to a much broader market

culture: the project aims to provide a practical response to the public organisations that are beginning to realize the fundamental importance of improving the quality of life of the population, on the basis of important concepts such as food and proper lifestyles

costs: the project aims to develop a model in which individuals are encouraged to become

 

jointly responsible for their health and well-being, which could impact healthcare expenditure by reducing the economic and social costs of unhealthy lifestyles and risky behaviors.

Results
The research project has led to the development of a prototype technology platform designed to deliver user-tailored services focusing on individual food and nutritional needs, through tools such as a web portal and mobile apps (especially for tablets and smartphones), automatic dispensers and other transmedia instruments, enabling the service to be used in various contexts of daily living.
The Feed for Good portal enables users to build a profile, entering any problems with food (allergies and intolerances) and physiological and medical data, and, above all, their tastes and preferences, so as to develop the most effective and pleasant way for motivating users to adopt a healthier relationship with food. Based on a hi-tech platform, capable of mining data on food products, recipes,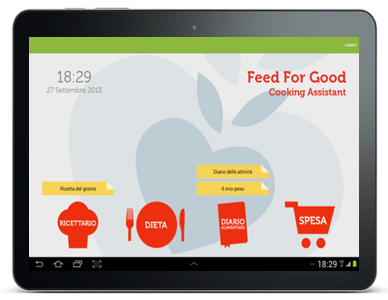 The Feed for Good system
allows user-friendly and immediate access to the services through mobile devices, also featuring other specific services developed to help users in any context of daily life.
Tablets
and
smartphones
can thus be used to create shopping lists and can act as virtual shopping assistants and cookery teachers, through specially-designed video-recipes, guiding users in the preparation of a broad range of dishes. The video-recipe format exploits state-of-the-art computer vision techniques, with the recognition of ingredients, utensils and actions, allows interaction with users and enables dynamic access to a series of contextualized contents and information. Users can also be supported in their activities by a 3D avatar, which can make navigation and other operations a highly streamlined and pleasant experience.
More information and materials (for the press only) can be found at the following website:
www.ffg.eservices4life.org